University of Redlands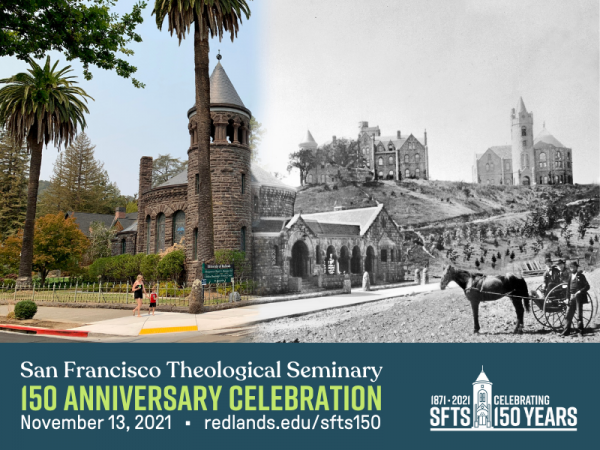 University of Redlands-Marin Campus
The University of Redlands-Marin Campus is a new community resource for higher education, resulting from the recent merger between San Francisco Theological Seminary (SFTS) and the University of Redlands. Established in 1907, the University of Redlands is a distinguished liberal arts college in Southern California, which has now expanded its graduate programs to North Bay. Located in San Anselmo, the University houses the Graduate School of Theology (SFTS), School of Business and School of Continuing Studies, as well as a robust offering of Events Services for weddings, special events, retreats, conferences and lodging. The serenely beautiful campus, famous for its castles and extraordinary views of Mt. Tamalpais and Ross Valley, provides peaceful respite for the community at its two labyrinths or for just a stroll on the historic grounds. 
Interested in graduate programs or continuing education?  We offer a variety of master's degrees, diplomas, certificates, and retreats. Please visit our Marin Campus web page for more information and to speak to an Admissions representative.
Planning a wedding, event or conference? With our eleven unique venues, onsite lodging, and expert team to serve you, you'll enjoy a smooth, successful event, no matter the size or budget.  Please visit our Marin Campus Event Services page for more information and contact us by emailing marin-events@redlands.edu.
105 Seminary Road, San Anselmo, CA 94960
https://www.redlands.edu/marin
Send a Message –marin-events@redlands.edu
San Francisco Theological Seminary 150th Anniversary Celebration
Saturday November 13, 2021 
Whether you are a proud SFTS graduate, a friend of the Seminary, or a neighbor in one of our surrounding communities, we are excited to welcome you back to the University of Redlands Marin Campus to connect with the people and places that are a part of your experience. We'll answer your age old questions: what is this place and what do we do here?! Our 150th Celebration festivities include beloved school traditions of a faculty-led academic panel, community BBQ on Bouick Field, wine-tasting in the Playhouse, and a music-filled worship service in Stewart Chapel on Saturday evening.  As we look back, we also look forward—what's new, and what spiritual and business programs might interest you in the future?
105 Seminary Rd.
San Anselmo, Ca (Map and Directions)
Website: http://www.redlands.edu/marin
Categories: business, education, college, graduate degrees, events, education
---
Next: Valinoti, Specter & Dito, LLP
Previous: Union Bank