Corte Madera Covid-19 Updates
Wondering What's Open In Town?
 With all of the restrictions that have been ordered due to the shelter in place, we know there are many who are wondering what local businesses might still be open to the public. Check out the current list of local businesses you can keep supporting while following the rules of social distancing.
Restaurants Open for Curbside Pick-up/Delivery
Baja Fresh: (415)924-8522
Blue Barn (415)927-1104
Boudin (415)737-1849
Burmatown: (415)945-9096 
Cafe Verde (415)927-1060
Fieldwork Brewing Company: (415)891-8273
Il Fornaio (415)927-4400
Juice Shop: (415)927-1959
La Maison de la Reine: (415)927-0288
Lighthouse Café (415) 945-8902
Marin Joe's: (415)924-2081 
Nothing Bundt Cakes: (415)924-2500 
Pacific Catch: (415)927-3474
Peet's (415)306-9340
Philz Coffee (415)496-2024
Pig In A Pickle: (415)891-3265
Stefano's Pizza: (415)924-9666 
The Cheesecake Factory: (415)945-0777
Tub-Tim Thai Restaurant: (415)924-1223
World Wrapps: (415)927-3663
 Zinz Wine Bar (415)927-9466
 Pet Stores/Pet Boarding
Camp K-9 of Marin (415)924-2267
Just Food For Dogs: (628)212-2102
Pet Club: (415)927-2862 
 Grocery/Pharmacy Stores
Andy's Market: (415)945-9068
Colonial Liquors: (415)924-0512
Nugget Market: (415)945-8855 
Rite Aid: (415)924-4557
Safeway: (415)927-1960 
 Car Dealerships:
Marin Luxury Cars (415)460-4600
Mini of Marin (415)737-0500
Marin Acura (415)924-5100
Tesla (415)737-0780
Retail Curbside Pickup
A Child's Delight (415)945-9221
Anthropology (415)924-4197
AT&T (415)924-9803
B8ta (415)496-6552
Bazaar (628)758-8706
Big 5 Sporting Goods (415)924-3221
Columbine Home (415)927-8884
Container Store (415)945-9755
Corte Madera Cleaners (415)924-1973
Crate & Barrel (415)924-5412
Ethan Allen (415)383-3600
Five Little Monkeys (415)886-8497
Free People (415)924-2081
Hildegard 's (415)924-6455
iPlayNtalk (415)936-9797
Joanne Fabric (415)924-8700
Julianna's Fine Jewelry (415)924-9711
Louis Thomas (open Tuesdays, Thursdays and Saturdays 11am-3pm) (415)924-1715
Love Sac (415)945-9396
Lulu Lemon (415)927-2891
Nordstrom's (415)927-1690
Pendleton (415)924-2692
Peterson's Consign & Design (415)927-4756
Pottery Barn (415)924-1391
REI (415)927-1938
Starbucks at Town Center (opening May 25)  (415)927-1048
T-mobile (415)548-2432
Talbots (415)927-3793
UPS Store (415)924-8696
Urban Outfitters (415)927-1844
William Sonoma (415)924-6799
Other Businesses: 
D&K Automotive (415)924-3510
Herc Rentals (415)924-4444
Thrive Healing Arts Studio (415)927-7030
Small Business Relief Fund Grants
 The Corte Madera Small Business COVID-19 Disaster Relief Fund has been created in partnership with the Corte Madera Chamber of Commerce, and the County of Marin. The goal of this relief fund is to help small businesses sustain their operations as we continue to push through this pandemic and adapt to the mandates that have been put in place.
 Corte Madera understands that businesses have been largely impacted by COVID-19 and the limitations that have come about due to the necessary health and safety precautions the County of Marin has been taking through the Shelter in Place Orders. This relief fund is intended to assist qualified small businesses pay for immediate operational costs, including but not limited to rent, payroll, utilities and loan payments.
 In order to be eligible for a grant from this relief fund, the small business must meet the following qualifications:
 Operate in Corte Madera under a current, Town business license
Have had a Corte Madera business license for more than one calendar year
Have no more than 26 full-time equivalent (FTE) employees (not including business owners) in all locations operating under the same business name (the total should include FTE employees in all locations within and outside of Corte Madera) as of January 1, 2020
Not have an independent fundraising effort currently established (this includes GoFundMe) 
 At this time, home office-based businesses do not qualify. Additionally, independent contractors that share a physical location, whether it is a personal or business service, under a single name (e.g. a single salon or an architectural practice) do not qualify. However, the primary business operator can apply for a grant that if approved, would then have to be shared by all independent contractors sharing that physical location.
Please note that your business can be open or closed. As long as you meet the above qualifications, you can apply.  The Town of Corte Madera will allocate one grant of $1,000 per business, on a first come, first served basis. Applicants who previously applied for a Small Business Disaster Relief Grant offered by the Town of Corte Madera have the opportunity to receive a second grant but must submit a new application for review, no exceptions. Please note that priority will be given to applicants who did not previously receive a Small Business Disaster Relief grant from the Town of Corte Madera. All applications will be reviewed by the Administration and Finance Department after the close of the application period, June 1, 2020 at 5:00PM. If you have any questions about this program, please call Lorena Barrera at (415) 927-5086.
 To access the fillable PDF application from our website, please go to the following link: https://www.townofcortemadera.org/DocumentCenter/View/4998/Small-Business-COVID-19-Relief-Fund-Application_Fillable.
 Please email your completed application to covidgrant@tcmmail.org no later than 5pm on June 1, 2020. Late, incomplete or unsigned applications will not be considered.  The Town will not accept paper applications.
  Phases of Recovery for Marin County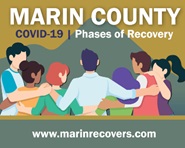 https://marinrecovers.com/documents/marin-county-covid-19-phases-of-recovery/
Resource Guide From SBDC To Help Businesses.  Includes Information on:
 Overview to the Paycheck Protection Program (PPP)

Small Business Owner's Guide to the CARES Act

Online Webinars for coping with COVID-19

SBDC Guide to COVID-19 Loans
 Facebook recently updated guidelines for its $100 million small business grant program. Specifically, $15 million is earmarked for Bay Area (including Marin) and these are the criteria:
Have between 2 and 50 employees
Have been in business for over a year
Have experienced challenges from COVID-19
Be in or near a location where Facebook operates
Resources for employers and employees in response to COVID-19  Finance:
Small Business Administration Disaster Loan: Loans up to $2 million. Please see the Marin SBDC to apply.

California IBank has low-interest and state-guaranteed business loans and microloans for small business borrowers who have been impacted by regional disasters and who need term loans or lines of credit for working capital.

The California Capital Access Program (CalCAP) for Small Business encourages banks and other financial institutions to make loans to small businesses that have difficulty obtaining financing. If you own a small business and need a loan for start-up, expansion or working capital, you may eligible for this program. Loans are available up to $5 million.

Benefits or questions for employers and workers impacted by COVID-19:
California Labor and Workforce Development Agency: Unemployment Insurance and other tools for affected workers.

The Employment Development Department (EDD) provides a variety of resources for employers who anticipate a reduction of work hours or potential closure or layoffs as a result of Coronavirus.  Employers experiencing a hardship as a result of Coronavirus may also request up to a 60-day extension of time from the EDD to file their state payroll reports and/or deposit state payroll taxes without penalty or interest. For questions, employers may call the EDD Taxpayer Assistance Center at (888) 745-3886.

Utilities:
PG&E has placed a moratorium on shut offs due to any nonpayment.
More programs are expected to be available in the coming days and weeks. Please check regularly with your local Chamber of Commerce or the Marin SBDC on how to access programs.
---